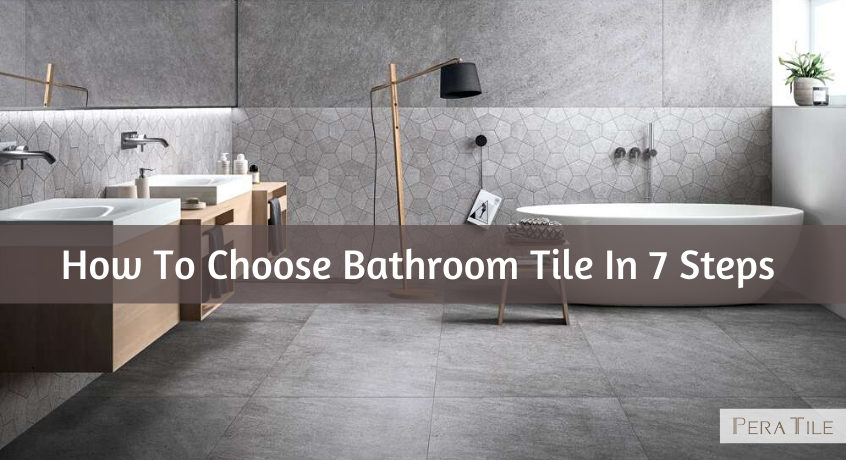 How to choose bathroom tile in 7 helpful steps.
With so many tile chooses for your bathroom it can quickly become overwhelming trying to choose what you want.
We want to help make the search a little bit easier, and share our 7 tips for choosing the right tile for any bathroom.
When choosing tile for your bathroom, planning is essential.
Before you get to our 7 steps, think about these questions.
Is it big or small?
Do you want dark bathroom tiles or light tile?
Are you OK with lots of cleaning or do you like to keep scrubbing to a minimum?
How To Choose Bathroom Tile – 7 Steps
Go With Light Colors
Light colored subway bathroom tile is an extremely popular home trend right now. Plus, white, off-white or light colors can make the room feel spacious. When it comes to grout colors, be sure the grout doesn't contrast too sharply with the tile (i.e., white tile with black grout).
Think About Scale
Large scale tiles are definitely on trend when it comes to bathroom floors right now. If you choose to go that direction, you can use the same tile cut in smaller sizes in a different area of the bathroom. For example if you use 12 x 24 tiles on the floor, you can use the same tile on the bathroom floor in 2 x 2s to continue the color across the entire floor, but creating a more slip free shower floor.
Go Big
When going with large bathroom tile, you must maintain a minimum grout joint width of 3/16-inch. Also, be sure there is at least 90 percent mortar contact below the tiles as their large size makes them more prone to cracking. Though tile is really easy to clean, we'll show you how to clean tile floors the best way.
Grout Lines
Thinking mosaic bathroom tile? You'll have more grout lines. One way to minimize the grid-like feeling mosaic tile can create is to use a grout tinted to resemble the tile's color. Try these grouting tips and techniques.
Think Of Upkeep
If you're looking for a bathroom tile that doesn't require much maintenance, think porcelain or ceramic. Tiles made from natural stone require more upkeep since they are more porous. Regrout wall tile with these tips.
Go Universal
Want a bathroom tile look that will look great for a long while? Here's a tip: Pick one larger neutral color tile for installation throughout. Not only will this be easier to maintain, but it will make the room look much bigger. Learn some modern tile installation tips.
Slippery Factor
While glass bathroom tile is pretty and makes for a great wall or accent tile, it becomes extremely slippery when wet. Avoid glass tile on floors, especially in bathrooms with a shower or bathtub.
When it comes to learning how to choose bathroom tile for your homw, we hope our 7 steps will make your search a little easier.